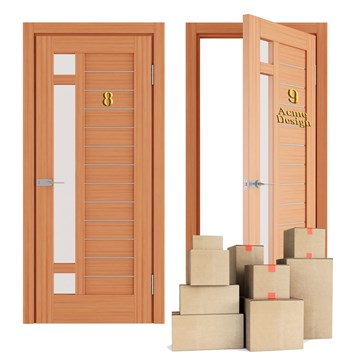 Many aspects of the American work landscape have changed radically in the last two decades. As the service and information economies have overtaken manufacturing and other more traditional forms of labor, the old 9-to-5, office-bound workday model has shifted as well.
Even back in 2000, the U.S. Small Business Administration (SBA) estimated that home businesses accounted for more than 50 percent of all U.S. firms, and generated more than 10 percent of the nation's revenue. Those figures have grown exponentially as more people are working out of their homes than ever before—according to the U.S. Census Bureau, about 13.4 million people currently work from home in the United States. That's about 4 million more Americans since 1999. And that number is growing, as more big businesses realize the advantages, in terms of economics and productivity, of having employees stay home.

Challenges for HOAs
While home-based businesses have been a boon to many entrepreneurs, in some cases the practice poses challenges for the buildings and HOAs they live—and work—in. How do associations handle these challenges? How much work are residents allowed to do at home, and what kind? What recourse do HOAs have when office use crosses the line into violating the governing documents—or, worse, the law?
America has always been a country where the residential and the commercial overlap. Indeed, it was this tradition of blending work and home in the early twentieth century, when it was common for families to live above or adjacent to their own mom-and-pop businesses.

Accommodating a Growing Trend
"Many great companies such as Apple Computer started out as home-based businesses," says Marianne Markowitz, regional administrator of the U.S. Small Business Administration. "SBA has capital and counseling assistance to help these businesses grow."
Benefits of live/work zoning are not confined to small business owners who occupy the buildings.
The difficulty comes when a small business springs up in a condo that isn't zoned for live/work. "When complaints are filed by neighbors it is usually related to an increase in traffic to the home, such as more UPS trucks or customers coming to the house. This causes parking in the street and other safety hazards," says Rachel Frydman, an attorney at the Frydman Law Group in Plantation.
As with most ordinances, there are nuances to live/work rules. All of us "work" from home at times, whether we want to or not. There is a difference between, say, a graphic designer tinkering with Photoshop by herself versus an import/export company that deals in firearms. "If it is a telemarketing or other phone-based business that does not have vendors or customers coming to the house then it should not cause a nuisance or problem and the association should just ensure this owner is properly licensed and not get involved," says Frydman.

Just Dropping By
Visitors can be employees of a small business—a bookkeeper, a personal assistant, a master craftsmen—or, more thornily, customers, clients, or vendors. It's one thing for a successful actor to have his personal assistant drop by the condo every day; it's another for an attorney who represents drug dealers and petty criminals to see his clients in the building. "If an owner is causing a nuisance with his business then it is up to the association to step in and force compliance," says Frydman.
And while houses of ill repute—especially high-end ones—tend to be discreet, one of the dangers of prostitution is the threat of violence. Another is that it's illegal. (According to one legal pro, the way to stop an escort service from operating from a residential building is simple: hire a security guard to take down the driver's license numbers of all visitors to the building. In 48 hours, all prostitution will cease).
Most violations of the prohibition of office use on residential property are not quite that colorful. "Although our data on home-based business growth is more national in scope, I can report that the top two sectors in this area are construction and professional, scientific and tech services," Markowitz reports. "Seventy percent of all construction businesses are home-based, and 63.1% of all professional, scientific and tech services are home-based." The lion's share of violations are operations that began as one-man businesses in those and other areas, and then blew up enough to require more staff. This is good for the overall economy, but a potential risk to the residents of the condo.
In Florida, zoning restrictions related to work and home will usually fall within the documents of the association, rather than the municipality. "Most of my clients have a 'no commercial business restriction' so basically they follow the standard of nuisance. I believe there is case law which allows owners to conduct a business if there are no customers coming to the residence and no increase in the traffic to the residence. None of my clients have modified their documents," says Frydman.
That also holds for buildings that are exclusively residential in usage. While some small businesses have employees who come and go from the premises every day, it's better if the number of visitors, who are not employees tends to be smaller. "Businesses that don't require regular visitation of customers, clients, signage, deliveries, or vendors, typically those are allowed. Anything that wouldn't be a burden on a common area, like an independent writer, who's going to know?" says Patricia DuBuque, senior vice president of association services at C1 Bank in St. Petersburg and a former property manager herself.
It's a simple reality that more and more Americans are working remotely. DuBuque says in the 25 years in management, her company only saw one such dispute. "But, I would think as technology is changing and people have the ability to do work from home for things like customer service, or insurance, service industry types of businesses, there's a big push to allow people to have more flex time and work from home. So, from a service perspective it certainly could be something that boards could be concerned about," she says.

Enforce Your Own Rules
For that reason, boards should make sure they have such rules in place, and that they're clear and fairly enforced. "Every association is different, and every association has different governing documents. But I've read a lot of documents in my lifetime, and I've seen it in a lot of them," says DuBuque. If they're not in there, obviously legal recourse becomes pretty difficult. But, otherwise there's not much grey area to succumb to. If someone is working from home in a manner that doesn't really cause any disturbances, obviously it would be difficult for anyone to find out, let alone take issue with it. And, lots of UPS packages and client meetings in the common areas are pretty conspicuous violations of the typical rules and regulations laid out in association documents.
Greg Olear is a freelance writer and a frequent contributor to The Western & Central Florida Cooperator. Associate Editor Tom Lisi contributed to this article.