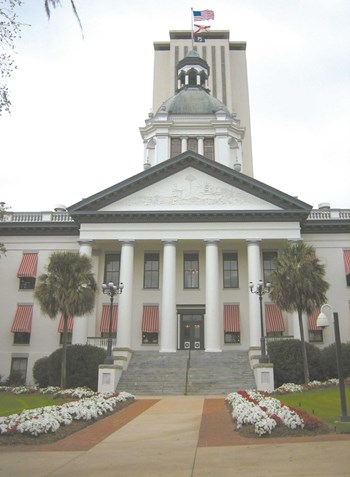 When you're up to your earlobes in alligators, it's hard to recall that your initial objective was to drain the swamp. —Old Florida Proverb
A long-standing annual rite in the Florida Legislature is passage of an omnibus shared-ownership housing bill for condominiums (Chapter 718 in the Florida Statutes), co-operatives (Chapter 719), and homeowners associations (Chapter 720).
Each year the lawmakers ponder housekeeping changes to correct perceived shortcomings in these chapters. "Will they ever get it right?" one pundit wonders, but that's admittedly unfair.
Shifting economic conditions, technological advances, and innovations in shared-ownership communities make some changes necessary. Others arise from political jousting among contending professionals, including accountants, attorneys, bankers, builders, developers, insurers, and community managers.
Some perennial proposals are tweaked each year to enhance their appeal. They eventually become law—or disappear when proponents give up trying.
Unlike most bills the Legislature considers in a given year, the omnibus shared-ownership housing bill is practically guaranteed to pass. What really matters is its content, which multiple House and Senate committees massage and rewrite extensively en route to a final vote in each chamber.
Along the way, a bevy of lobbyists monitors the bill's arduous journey and strives to influence its content, representing the aforementioned professionals and the residents of the communities whom that content ultimately will affect.
This Year's Proposals
As the 2015 version—HB 791, sponsored by Rep. George R. Moraitis, Jr. (D-Ft. Lauderdale), and SB 748, sponsored by Sen. Jeremy Ring (D-Margate)—slogged through the Legislature, it included these provisions:
• Collection costs:Associations already could recover delinquent assessments, interest, late fees, attorney's fees, and costs as part of the foreclosure process. "This proposal would clarify that 'costs' includes a management company's charges to send delinquency letters to the owner," explains Yeline Goin, a community association attorney with Becker & Poliakoff, P.A. and executive director of the Community Association Leadership Lobby.
The legislation also would clarify that the buyer of a foreclosed property is the source of these funds that associations could recover, added Peter M. Dunbar, an attorney and shareholder with Dean Mead, a law firm with five offices located throughout Florida. He is legislative counsel to The Florida Bar's Real Property Probate & Trust Law Section (RPPTL, pronounced "reptile"), and an adjunct professor at Florida State University's law school, as well.
• Electronic voting: This proposal, not previously considered, would allow unit owners to vote by emailing or faxing a reproduction of the original proxy. "This would save money for mailing a lot of materials related to voting, and allow people to participate to a greater degree than if they have to fill something out, put a stamp on it, and mail it," says Dawn Bauman, the Community Associations Institute's (CAI) vice president of government and public affairs.
• Videotaping: The law now permits videotaping of meetings of the board and unit owners. A new provision prohibits unit owners from posting such audio or video recordings on a website or other media that people who aren't association members could readily access. "YouTube would not be allowed," Goin says.
• Bulk Buyers: Enacted in 2009 during the Great Recession to deal with distressed projects, the bulk-buyer provisions of the Condominium Act were scheduled to "sunset" in 2016. Proposed by the RPPTL, this proposal would make them permanent and "clarify and balance the rights of bulk owners and individual residents already in place," Dunbar says. "It would make sure transition [to association control] occurs, require improvements made by bulk owners to have warranties, and clearly express the protections and obligations the bulk owner will have to other residents in the community."
• Documentary taxes: When an owner gave a deed in lieu of foreclosure to a community association, the documentary tax has been based on the amount of the outstanding mortgage. This proposal would base the tax instead on the amount of delinquent assessments. In most deed-in-lieu situations, the association would have paid the tax to recover the property, and then recaptured the funds by reselling the unit. For a condo with a $100,000 mortgage and a $5,000 delinquency, "the new law would be a significant benefit to the associations," Dunbar says.
• Matching provisions:For about a decade, the Legislature has tried to "make the Condominium, Cooperative, and Homeowners' Association acts mirror each other as much as possible," Dunbar says. "The professionals who work in these multi-family communities want consistency for operational standards across the board."
This year, the omnibus bill would make allocation of partial payments in the Cooperative Act consistent with the Condominium and HOA acts. It would provide for suspension of an HOA board member, and would state that an HOA board member who is more than 90 days in arrears becomes ineligible to serve, provisions already in the Condominium and Cooperative acts.
• Posting Notices: Condominium communities are obligated to post notices for meetings of the board of directors or membership on the common elements. In some condos, although the recreation facilities are association property rather than common elements, that's where everyone looks for such notices. "The legislation would allow these notices to be posted on association-owned recreation facilities even though they aren't actually common elements," Dunbar explained.
• Homeowners' Association Act:The legislation would formally name Chapter 720 the Homeowners' Association Act. It also would expand the definition of "governing documents" in an HOA to include the community's rules and regulations.
Walking Separate Paths
Outside of the omnibus, other shared-ownership housing proposals walk the legislative road. Those with the most popular appeal are picked up on the omnibus and receive a free ride as amendments, or hike the entire way to win passage. Others languish in committee or go down to ignominious defeat. Here are some other interesting bills the 2015 Legislature considered:
• Condominium Act Corrections:SB 702, sponsored by Sen. David Simmons (R-Altamonte Springs) was a technical revisions bill correcting the Florida Statutes. One provision would restore two paragraphs omitted last year, allowing condo associations to buy at a foreclosure sale when foreclosing on a lien. The association would get a judgment for the amount of money owed, and would bid that amount at a public sale. Without the correction, a special vote authorizing the purchase would have been required. The bill passed easily and Republican Gov. Rick Scott signed it.
• Estoppel Certificates:An estoppel certificate is a signed document asking a condo or homeowners' association whether the seller of a dwelling is current on his mortgage payments and other obligations, and stating the unpaid mortgage balance, its interest rate, and any liens against the property. HB 611, sponsored by Rep. John Wood (R-Winter Haven), and SB 736, sponsored by Sen. Kelli Stargel (R-Lakeland), would set a monetary cap on what a management company or association could charge to issue estoppel certificates.
Travis Moore, CAI's Florida lobbyist, explained the process: Initially, the title company fronts the cost and is reimbursed by the buyer at closing. If the closing doesn't happen, the title company gets a refund. If the estoppel information is inaccurate, liability rests with the management company or the association.
"The management industry is widely opposed to it," he says. "An estoppel certificate takes time to prepare, it is only good for a certain amount of time, and the timing doesn't always fit with a closing schedule. If they can't get paid enough to do it right, they think closings will slow down.
"There was an internal disagreement within the RPPTL. The title folks wanted it, and the condo lawyers were opposed. The realtors believed no fee or waiting time should be necessary to get documents from a community association. They called the bill a deal-killer because they were afraid homeowners wouldn't want to live there after reading those documents."
• Service Animals:Last year the Legislature considered but did not pass a bill allowing service animals and emotional-support animals in Florida public accommodations and residential communities. The Americans with Disabilities Act (ADA) draws a distinction between the two, allowing only service animals trained to perform a specific medically necessary function, such as guide dogs for the blind and alert dogs for the deaf. The broader definition of "assistance animal" in the Fair Housing Act includes providing "emotional support" to persons with disabilities.
This year's bill, HB 71, sponsored by Rep. Jimmie T. Smith (R-Inverness), and SB 414, sponsored by Sen. Thad Altman (R-Cape Canaveral), was limited to service animals recognized by federal law.
• Construction-Defect Claims:HB 87, sponsored by Rep. Kathleen C. Passidomo (R-Naples), and SB 418, sponsored by Sen. Garrett Richter (R-Naples), would have made pursuit of construction-defect claims more difficult for community associations. Bauman says the Legislature was continuing to shift the balance in favor of contractors and developers. "In the past," she says, "they took away warranties for HOAs, and the right to sue architects and engineers for construction defects."
The 2015 proposal would have allowed the contractor to inspect the building and determine whether a defect exists. Then the contractor could decide whether to make repairs or a monetary settlement. Also included were sanctions for frivolous claims.
In addition, the bill would have required more specific identification of every defect. "In a 50-building condo," Goin says, "you would have to identify every stucco crack, and the building-code provision or departure from the plans that the crack violates. It would be cost-prohibitive for an engineer to inspect all 50 buildings when we see a defect in the first few buildings."
• Statute of Repose: Contractors wanted to reduce from 10 years to seven years the statute of repose—the length of time after which an owner could not pursue a defect claim. That reduction was in HB 501, sponsored by Rep. Jay Fant (R-Jacksonville), and SB 1158, sponsored by Sen. Kelli Stargel (R-Lakeland).
"CAI and CALL were opposed," Goin says. "During committee hearings, engineers spoke about many defects that don't manifest themselves until after seven years, eliminating the ability of homeowners to get redress. Also, a developer could hold onto association control for up to seven years, and a claim couldn't be filed until after the transition from the developer to the association."
• Condominium Termination: This measure would resolve a controversy over valuation of units in apartment complexes converted to condos near the top of the market in the mid-2000s. "Then 2008 happened," Dunbar says. "In many communities, the developer went bankrupt or quit paying on the mortgage to the master property. Someone paid it off and arranged for a bulk sale. The bulk buyer converted the community back to rentals and forced out the individual owners. Let's say the owners paid $125,000 for their units. Four years later a bulk owner owned 80 percent of the units, and offered to buy out the individual owners for market value, which was then $70,000. The individual owners received less than what they paid for their units, and less than what they owed on their mortgages."
HB 643, sponsored by Rep. Chris Sprowls (R-Palm Harbor), and SB 1172, sponsored by Sen. Jack Latvala (R-Clearwater), would establish a formula for treating both the bulk owners and individual owners fairly.
George Leposky is a freelance writer and editor living in Miami, Florida, and a frequent contributor to The South Florida Cooperator.