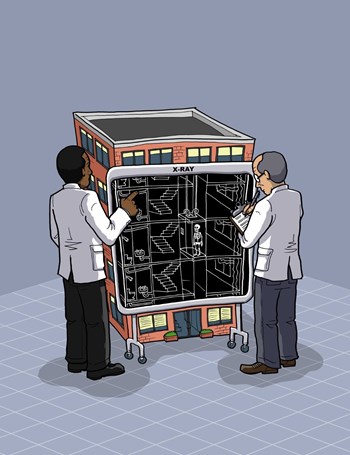 From the outside, the structure of a condo or co-op building may appear to be monolithic; just one big piece of brick and steel, punctuated with some glass here and there. That's an oversimplification, however. A multifamily building is perhaps more like a human body, with a multitude of organs and moving parts working together to keep the building healthy and vibrant. From the roof to the boiler and all points between, ensuring that systems are operating efficiently is a continual challenge.
The primary operating systems include roofing, the building envelope, waterproofing, electrical, mechanical, HVAC and elevator systems. Sanjay Kurian, a board certified construction lawyer with Ft. Lauderdale-based Becker & Poliakoff, explains that in most buildings the roofing, building envelope and waterproofing systems address the most common issues: water intrusion and weather issues, which usually impact residents most frequently.
"The other systems relate to the operation of the building and the residents' use of the interior of the buildings," says Kurian. "These systems vary from building to building and are dependent upon the type of building and the type of construction at issue."
And while the size of a building might matter in terms of scale and expense, the actual approach to maintaining systems remains the same. "The problems are essentially the same," says Kurian. "However on smaller low- and mid-rise buildings, there are fewer common area mechanical, electrical and HVAC components."
Critical Care
With an average temperature of 82, for Floridians, perhaps the most important operating system in a building is its air conditioning system. There are two common systems. The first is a chilled water system, which requires one central plant on the ground or the roof, which provides cool water to a series of fan coils within each condominium unit.