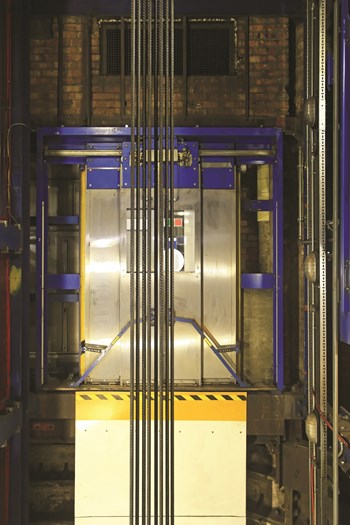 Building amenities, like elevators, are often taken for granted, but elevators are for more than just avoiding a workout and creating awkward silences between neighbors; they accommodate residents unable to climb stairs and are critical for deliveries and facilitating maintenance workers. At a certain point, no matter the age of the building, the elevator system will need maintenance or even replacement. The key is identifying signs of wear-and-tear before a breakdown occurs.
"Elevators are not like automobiles," says Lee Rigby, president of Vertical Assessment Associates in Tallahassee. "They are more like a building where there are different life spans for some of the different major components of the equipment. So, for example, while a driving machine might last for 30 to 35 years, a controller will typically last for 20."
Even if a building owner is diligent when it comes to maintaining their elevators, there may come a time when it becomes unreliable and the downtime is increased—this could require an overhaul.
"As elevators get older the frequency of their failures could potentially be greater so just like humans they need more care. Therefore, so on the older systems if you want to prolong their useful life, you would step up the elevator maintenance," says Mike West, manager of Oracle Elevator in Ft. Lauderdale.
"If you asked me that in 1990, we would say that elevators last 30 to 45 years. Asking that today is a little bit of an unknown because we see computerized equipment aging and moving at such a rapid rate. A newer, modernized system is going to operate closer to 20 years as a result," says West.
Government Oversight
Since it's not a question of if an elevator will need maintenance, but when—it is always best to be proactive.
"Maintenance should be done once a month on every elevator; adjustments, lubrication, tightening things, whatever it takes to make sure the elevator is running smoothly," says Andrew Grabin, manager of new construction at Mowrey Elevator in Davie.
"The maintenance section of the elevator code has gotten much more intense, especially with record keeping. The repair of elevators can only be done by licensed personnel working for registered elevator companies. There are things the building owner can do like keeping the door sills clean, keeping the door's protective edges clean and to be familiar with some special features of the elevator such as fire service operation," says Rigby.
"Elevators must have elevator recall and if they don't then an inspector can write them up for not having fire service. So when there's no fire service that means there needs to be a controller change, which is a major alteration, which requires everything else be brought up to code," says Grabin.
"Under Florida law, all elevators have to meet the safety code that was in effect when the permit was applied for. If an elevator is altered that alteration needs to meet the code for at the time the permit was applied for. ASME-A17.3, a code that was put into place in 2008, is a safety code for existing elevators that requires all elevators and escalators be brought up to a new minimum standard," says Rigby.
"It's not just the elevators that need to be modernized, it's everything associated with the elevators. A lot of the building elements need to be brought into current code, such as electrical, the big electrical switches that turn the elevators off and on, lighting in the elevator machine rooms and shafts, that all needs to be brought up to code. There are requirements for HVAC in elevator machine rooms because everything is microprocessor-based; they now have to be temperature-controlled as a result," says West.
Modernization and Going New
If a building deems it necessary to undertake a capital improvement project such as replacing an elevator system, the building not only has to adhere to city codes, but is charged with hiring the right contractor and consultants for the job.
"One thing that the elevator companies do not cover in the contracts is obsolescence. If a manufacturer decides they will no longer support a particular component, making it obsolete, then the elevator company will no longer be able to cover that and they would say, 'Hey you really need to upgrade the system,'" says Rigby. "Once the components are deemed obsolete they'll cover them so long as they are available, but once the components fail they would require the elevator to be upgraded. The issue with that is that upgrading an elevator on short notice is very difficult. So, once you find out some of your equipment is obsolete, you should be considering an upgrade to your elevator to minimize downtime."
Depending on the size and scope of the building and its elevator system, there are a wide range of issues related to how old equipment is shut down, dismantled and removed. The manner in which new equipment is brought in, installed, and brought online is equally challenging.
"Most occasions when we do large scale replacement projects, the elevator is located on the roof of the building. So you can imagine that trying to get to the roof of a 20-story building on the beach, or wherever it may be, has some serious challenges. Most of the time a crane would be employed to do the heavy lifting. You would lift these materials to the roof of the building, but this poses another set of challenges. Can a 20-ton crane get close enough to the building? Are electrical wires in the way? Is there enough room for it to operate and get the materials up to the roof and the elevator room? The big stuff is brought up by the crane and the little stuff is just walked through the front door. A 20-story building could potentially take three to four months to finish," says West.
"A lot of shutdowns are due to door equipment. We feel if someone is doing a major alteration they should always do the door equipment as well," says Grabin.
The costs related to modernizing an elevator varies widely based on scope, building conditions, and locale. As such, it is difficult to generalize costs.
"These associations can't just go to the elevator company and say, 'Hey, give me a price for a new elevator.' It's much more involved than that. Many times the elevator company, if they're good, they'll bring in third-party contractors that they work with and will introduce them to the association board and say, 'You can hire these guys directly or we can subcontract them and provide a turnkey project.' The turnkey projects have become a trend where a building hires the elevator company and the elevator company hires A/C, electrical, fire alarm, machine room doors, access doors, and that can all be under one umbrella if that's what the building wants," says West.
A turnkey project is when the elevator company executes everything under a single contract. Everything that needs updating will be subcontracted out by the elevator company, from fire alarms, A/C, electrical, access doors and so on. This saves the building time and effort as they won't need to worry about going out and finding and managing different contractors to ensure the jobs are done on time.
Picking the Right Time
If it is determined that elevator maintenance is required, building administrators and board members are required to prepare residents for the inevitable disruptions and to keep them informed as the project progresses. Whether a repair or a replacement project, experts advise providing as much notice as possible.
"In South Florida the trend used to be the summertime for elevator work, but as Florida changed its demographics, it's not as seasonal as it was 15 to 20 years ago, people live here year round like they never have before. Still, in most cases the summer is the least busy time, so the summer is when we typically do the lion's share of these modernization projects," says West. "If you have three elevators and each one takes three to four months to perform, many times you would start the project in February, you get the bulk of the work done in the summer when everyone is out of town and try to get it all done before next year's busy season. On these larger scale projects it's very difficult to get it 100 percent done during the summer."
Due to the length of time elevator modernization projects can take, everyone suggests that planning begins, for summer projects, all the way back in January or February. This allows the contractors to plan the project and gather all the parts and materials beforehand. In older buildings, or in ones with only a single elevator, this time can be invaluable.
"We see some very old buildings that wouldn't be permitted to be built today, like one elevator in an eight-story building. There's a few of these in South Beach, the older sections of Ft. Lauderdale Beach, West Palm Beach, where you would have to expedite the installation, where crews would need to work around the clock or 16 hours a day, six days a week. You have to get creative in situations like that to shorten the installation time because some people cannot get up and down the stairs, they rely on the elevators. So proper planning dictates that they would either need to move out for a few weeks or go on vacation," says West.
By starting your planning months in advance it allows you to give proper notice to those who would need the elevator the most and ensure that they are not inconvenienced more than necessary.
W.B. King is a freelance writer and a frequent contributor to The Western & Central Florida Cooperator. Staff writer John Zurz contributed to this article.