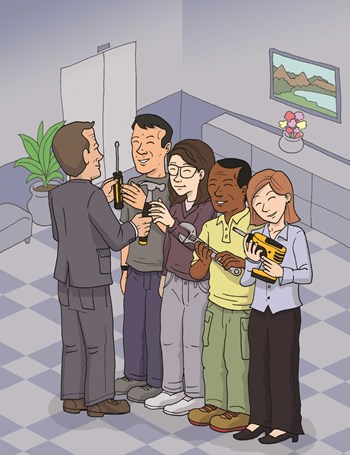 Say you're in bed, and you hear what sounds like the shower going. It's late, and you're tired, so you pay it no mind. You wake up at 4 a.m. to get a glass of water and find half the rooms in your apartment flooded— you forgot to turn the shower off! You throw blankets and towels on the floor to soak up the water and call your building's maintenance staff.
With the aid of a dehumidifying machine, they're able to get most of the moisture out of the flooded areas. But the wooden floor tiles themselves are heavily damaged, and a fair amount of water seeped into your downstairs neighbor's unit, damaging the ceilings, walls and some artwork. Who's responsible for restoring the flooring? And what about the water that poured into the apartment below?
The Basics
Finding out what systems and features in an owner's unit are his or her responsibility and which are the association's responsibility can be a very complicated subject. Many principles are universal but other details can vary from building to building, depending on the rules of that particular community.
According to Lee Heller, a director of business management with Associa/Association Services of Florida, a management company in Miramar, owners are "typically responsible for the interior of their unit, the wall, ceiling and floor coverings. There's a hot water heater or an air handler, their appliances, the plumbing and electrical panel." Unfortunately, this would likely include those wooden floor tiles, unless your building administration decides to be generous.
An exception, however, is piping inside the walls, says Ryan D. Poliakoff, senior counsel with Sachs Sax Caplan's Boca Raton law office. "Traditionally, pipes within walls and electrical elements that are within conduits within the walls are generally considered a common element, since they occupy interior space. Those things are usually the association's maintenance responsibility pursuant to the declaration."