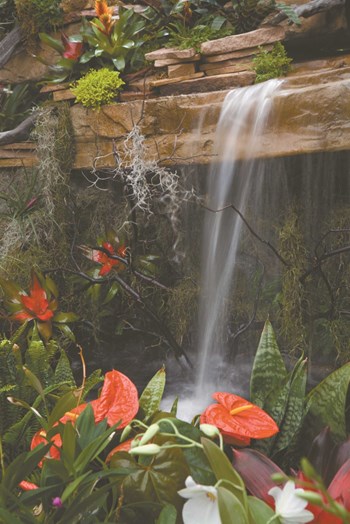 Whether indoors or out, few design elements are as dramatic and arresting as a waterfall, water wall, Koi pond, reflecting pool or statuesque fountain. These water features add beauty and value to any property or building, whether they are inside a lobby or common area or outside a gathering area or main entrance.
"Water features are pretty common on Florida HOA properties," says Michael Cihal, vice president of operations at Total Landscape Concepts, Inc. in Davies. "Everything from ornamental fountains to ponds and waterfalls; they are pretty and inviting for residents and guests. There's an appeal for the property. Most people are attracted to the sound and visual of water."
Louis Palermo, vice president of sales and operations at Palm Beach Aquatics, says that water features were more popular at one point, but the amenity took a hit when the economy took a dive. "In 2008, everything changed and foreclosures were out of control, so there were limits on the association dues that were being paid and, as a result, landscaping took a hit, including the upgrades on the properties," says Palermo, whose company specializes in lake fountains and aerators. "Putting in water features was at the bottom of the list and cut first. Now, we're starting to see more upgrades to HOAs again and, if there's a lake on the property, they are ready to make a change in the look."
According to Palm Beach Aquatics, adding a fountain and aerator to an HOA's pond or lake not only looks pretty but serves an environmental purpose, by improving water circulation and increasing dissolved oxygen levels in waterways. This limits the growth of algae and helps sustain fish and other aquatic animals.
"If the customer wants a fountain in the lake, I will determine the size of the lake and what will look best," says Palermo. "You don't want overkill or have it be underpowered in the lake."
Creative Choices
When you think of a water feature, you probably think of a standard three-tier fountain, a common item on many properties, but today there are more water features to choose from. Jason Bowen of Kane Brothers, who has many customers in south Florida, says that floating fountains have become very popular. His company also installs water gardens and ponds, streams and water elements that can be put in individual units as well.
"Floating fountains are simple, depending on the orientation of the pond," he says. "When the homeowners association is choosing a feature, we have to determine what's good for them and what are the overall goals. Do they just want to move water and appease a local municipality, or create something that's high-impact and attracts an audience? What's the budget? A floating fountain is inexpensive compared to something more custom, like a waterfall."
Sean So of Water Studio says that it's not just about placing any water feature on a property for his South Florida clients; it's about the space it creates. "We work to create a tranquil space and enhance the space that's there," he says. "Also, the residents really love the water features."
HOAs can be creative when choosing and installing a water feature by utilizing unused space. "We worked with one client to create an exciting water feature. The building had old outdoor elevator shafts which weren't being used, so we installed 40-foot water walls inside the elevator shafts and it aesthetically softened that part of the building," says So, whose California-based company has designed hundreds of water projects nationwide. "It was quite dramatic."
A combination fire and water feature—as a bowl, wall, stack of stones or fountain—is also growing in popularity, says So. "They are water fountains during the day and they turn into fire pits at night, where the residents can gather around."
Site requirements depend on what fountain or water feature is chosen. A water supply, drain and power source for the pump and any underwater lighting are typically required for the water features.
"What's going to feed the fountain?" asks Palermo. "An electrical contractor might need to get involved. We need to determine what horsepower we can put out there. Then you can choose what nozzle you want—it can go 25 feet high or 50 feet high, but depending on the lake, wind can come in and you can have overspray and it can spray on to people's homes. We take an overall view of the property and determine what would fit."
Before selecting a fountain, Cihal discusses the goals of the feature with his clients. "What's the space and what are you trying to achieve?" he asks. "Do you want something more visual or are you using it block out a noise or make it a meditation area?"
Although fun and interesting to look at, koi ponds are not typical water features for condo and co-op buildings, since they require more maintenance and the fish need to be fed. "However, with the new technologies, koi ponds are not as involved as they used to be and they can be quite maintenance-free," says Cihal.
Designing a water feature that blends with the property should also depend on the building's architectural style. For example, a traditional, three-tiered fountain of yesteryear would work well with a traditional building, while a black granite reflecting pool would look better on the property of a more contemporary building. It's easier to install water features in a new building by working with an architect from the ground up.
Keeping It Running
Water features are quite exquisite to look at, but require some maintenance to prevent leaks, algae growth and insects. "It's similar to having a pool, spa or anything with water," says So. "It requires regular maintenance. If the association has someone who takes care of their pool, that person should take care of the water feature, too. Today's systems are designed with filtration and sanitizing systems, chlorinators, sterilizers, ozonizers and more. That doesn't mean that there aren't going to be problems, especially leaks."
Cihal says that koi ponds are taken care of more on a quarterly basis. "That's to clean out the filters, and essentially, you're creating an eco-system where the good bacteria eats the bad bacteria and once you get that balance set up on a koi pond, you're not adding chemicals."
Choosing the right company to install the water feature is vital to preventing leaks and other problems. The building staff should also be instructed to remove, on a daily and as-needed basis, any debris and dead plant matter. They should be trained to check the chemical balance of the water and inspect the feature regularly for leaks. Seasonal maintenance applies most commonly to outdoor water features. These need to be winterized to prevent damage to the structure and to the water pipes during colder months. Some water features also come with a heater that prevents the water from freezing and, ultimately, breaking the equipment.
The board or management should work closely with a qualified landscape architect to choose a water feature and make sure that it makes the right statement and is installed properly. In some cases, the professional might even suggest forgoing the water feature for some other design feature. "We'll say 'no' if they want something that's too big for the space or it's going to cause splashing issues," says So, whose studio works with a variety of materials ranging from corrosion-resistant metals, such as stainless steel and copper, to a wide selection of stone and glass.
The cost of water features depends on the type, materials chosen, the complexity of the job and the customization. The more the projects are customized, the higher the prices. Some water features can start around a few thousand dollars and go up to $250,000, but they definitely make a statement.
"Water fits into any landscape and almost everyone is mesmerized by water, the sounds and look," says Cihal. "It's a nice addition to any property and is a calming, comforting feeling."
Lisa Iannucci is a freelance writer and a frequent contributor to The South Florida Cooperator.