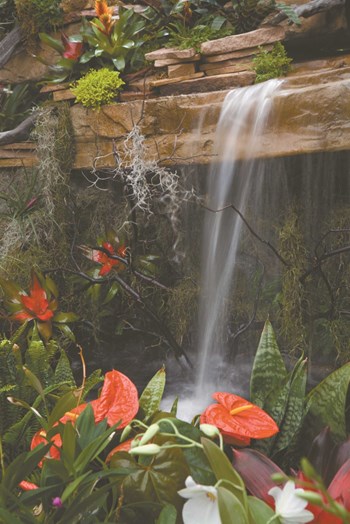 Whether indoors or out, few design elements are as dramatic and arresting as a waterfall, water wall, Koi pond, reflecting pool or statuesque fountain. These water features add beauty and value to any property or building, whether they are inside a lobby or common area or outside a gathering area or main entrance.
"Water features are pretty common on Florida HOA properties," says Michael Cihal, vice president of operations at Total Landscape Concepts, Inc. in Davies. "Everything from ornamental fountains to ponds and waterfalls; they are pretty and inviting for residents and guests. There's an appeal for the property. Most people are attracted to the sound and visual of water."
Louis Palermo, vice president of sales and operations at Palm Beach Aquatics, says that water features were more popular at one point, but the amenity took a hit when the economy took a dive. "In 2008, everything changed and foreclosures were out of control, so there were limits on the association dues that were being paid and, as a result, landscaping took a hit, including the upgrades on the properties," says Palermo, whose company specializes in lake fountains and aerators. "Putting in water features was at the bottom of the list and cut first. Now, we're starting to see more upgrades to HOAs again and, if there's a lake on the property, they are ready to make a change in the look."
According to Palm Beach Aquatics, adding a fountain and aerator to an HOA's pond or lake not only looks pretty but serves an environmental purpose, by improving water circulation and increasing dissolved oxygen levels in waterways. This limits the growth of algae and helps sustain fish and other aquatic animals.
"If the customer wants a fountain in the lake, I will determine the size of the lake and what will look best," says Palermo. "You don't want overkill or have it be underpowered in the lake."