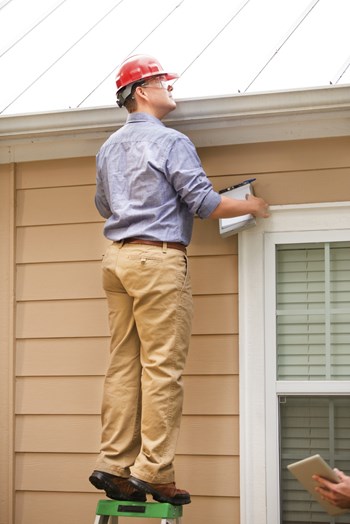 There are potential dangers all around a condo or co-op that no resident wants to consider a realistic concern: a chunk of hanging concrete above a pool deck can be life-threatening; a section of delaminated stucco—cracked all around—can sheet off and create serious issues; or water intrusion problems can cause or worsen structural problems, among a wide variety of other hazards.
Thankfully, the majority of building managers handle their property's security and safety issues efficiently, more specifically taking note of exterior property concerns. One requirement a board or management company must follow involves the exterior of multifamily buildings undergoing inspection by a qualified engineer.
The purpose of such inspections is twofold: not only do they check for cracks, settling, and other signs of serious damage, but also give boards and managers vital information about the condition of the property that helps them budget for upcoming maintenance needs.
Terri Chalaire, P.E., the director of Chalaire and Associates, Inc., an engineering consulting company in North Palm Beach, notes that associations should have their buildings inspected annually, but every few years at a minimum…or any time a potential problem is observed.
"Typically, a condominium will have all balconies inspected and an overall survey of the building's exteriors and façade," she says. "The exterior inspections can be performed from the ground to provide overall conditions and results."
Sometimes, problems found at exteriors can be structural in nature, or pose a serious risk to human life. Typically, engineers perform building exterior and facade survey inspections, and can provide an opinion regarding the nature of the problems and the extent.
For a new development, Georg Ketelhohn, Esq., a senior associate attorney with Siegfried, Rivera, Hyman, Lerner, De La Torre, Mars & Sobel, P.A., based in Coral Gables, says a turnover inspection of the exterior and other components should be performed as soon as possible after turnover of control from the developer in order to identify any significant construction defects and protect potential claims.
"Documenting the condition of the building as soon after turnover as possible is beneficial, as the passage of time can lead to the developer, contractors, and design professionals raising questions about whether damage was caused by intervening causes after construction, including lack of proper maintenance, and can lead to claims that the association or unit owners failed to mitigate their damages in the intervening time," he says. "In Miami-Dade and Broward, most multifamily buildings are subject to a 40-year recertification requirement, and require recertification every 10 years thereafter."
A Routine Inspection
Most inspections are similar, although the age of a building will come into play. Usually, building plans are reviewed prior to inspection to help with the process. "Generally, we look for deflections, cracking, and delamination in concrete framing, stucco cracks, and delamination, corrosion, or deterioration of any steel or wood frame components, and water intrusion issues," Chalaire says. "We also observe issues with windows, shutters, screen framing, accessories, piping systems in garages, and roofing systems."
An inspection must identify any cracks, spalling, or rebar corrosion in masonry walls and balconies, in addition to roofs, floors, and windows; exterior finishes are evaluated for deficiencies or damages that may affect the safety and stability of the building.
"There is no cut and dry list of observations that can be used to determine if a problem is serious; an engineer will be able to diagnose any suspected problems to determine the nature," Chalaire says.
"For example, a crack—depending on the location—configuration, width, and type, can be a significant problem or just a cosmetic issue," Chalaire continues. "Buildings—especially buildings with elevated recreation decks, balconies, parking garages, or other structures—can be very complicated…buildings can have water intrusion problems without structural problems, structural problems with minimal water intrusion problems, or both."
Ketelhohn says the scope of what an inspector is to look for depends on the scope of a contract. For a turnover inspection, typically this includes noting any visually observable defects and identifying any issues that require further investigation. "For the structural portion of a 40-year recertification, the inspector must identify concerns for life-safety with respect to the structural components," he says.
Normally, other inspections would occur due to a specific cause as a result of routine inspections by management, or something noticed and reported to management by a board member, resident or visitor, and would be focused on the reason for the inspection.
Proper Credentials
While there is no specific license labeled "exterior inspector," engineers should be licensed by the State of Florida as a professional engineer. The company doing the inspections and providing opinions should hold a certificate of authorization with the state. These credentials can be verified at www.MyFloridaLicense.com.
"It is prudent to hire an engineer, especially because of any potential structural problems that may be observed at the building's exterior," Chalaire says. "The engineer can advise on problems found, and provide recommendations."
Lisa A. Magill, a shareholder attorney with Becker & Poliakoff—a law firm based in Fort Lauderdale—says the laws are different depending on the type of community, but the concepts of long term planning and disclosure to the owners are largely the same.
"In Florida, condominium and cooperative associations are required to include fully funded reserves in the budgets adopted by the board of directors," she says. "The reserves are calculated according to a formula estimating the remaining life of the building component in question (roofs, paving, painting, elevators, sea walls, concrete, etc.), along with the estimated cost of replacement or repair at the end of the useful life. The law doesn't require the association to engage a professional consultant to perform a reserve study…but doing so is highly recommended."
In condos and co-ops, the owners have the option to (and often….probably too often) vote to waive reserve funding. However, the statutes require the voting document (whether limited proxy or ballot) to contain a disclosure—in large conspicuous type— advising owners that by voting to waive or reduce reserve funding, they are increasing the likelihood of a special assessment for those expenditures.
The Nature of the Law
The 40-year recertification inspection includes the inspection of the exterior of the building for structural safety concerns, and is required at 40 years and every 10 years thereafter. Section 8-11 (f), Miami-Dade County Code of Ordinances and Section 109.16, Broward County Administrative Provisions provides the requirements of these recertification inspection criteria for each county respectively.
Florida statutes state associations are responsible for maintenance of common elements, so associations have a responsibility to preserve and protect condominium and association property.
Sharing the Information
Once an inspection is done, the engineer or inspector must codify and communicate findings to the board or property manager clearly so they know what to rectify.
"A written report is issued to the association with findings; typically, this is a few pages of discussion, which includes the type of problems found, explanations of the types of problems, and recommendations," Chalaire says. "Usually, a spreadsheet is also attached if balcony inspections are included in the inspection."
As soon as the community administration has the inspector's findings in hand, engineers recommend that any structural problems are fixed expediently.
"Usually, boards will put together a plan to have significant problems fixed as soon as possible, and combine this with any other project they are planning," Chalaire says. "For example, it is typical for an association to have a building exterior survey performed a year or two prior to a painting project."
If a building waits too long for inspection, concerns rise regarding liability exposure for failing to attend to the maintenance needs of the buildings or improvements as well as possibly the failure to have adequate disclosures. Indeed, if an association fails to perform required routine maintenance, this can give rise to a defense of failure to maintain, in a construction defect lawsuit.
"Damages from unattended leaks, potholes, and elevator malfunctions are likely to include personal injuries in addition to destruction of property," Magill says. "One recent example includes the association and management company that were held liable for the wrongful death of a child due to the failure to ensure shrubs were maintained at a reasonable height or in compliance with local codes. Another case involved an association held liable for the loss of owners' personal property, off-site living expenses, and other damages that resulted from a fire, where the board ignored instructions to repair and restore firewalls."
Ketelhohn weights in on the subject. "However, this does not mean that the association is required to affect extraordinary repairs for all construction defects immediately," he says. "That requires an analysis of the nature of the defect and what routine maintenance—if any—is required for the affected component."
Keith Loria is a freelance writer and a frequent contributor to The South Florida Cooperator.