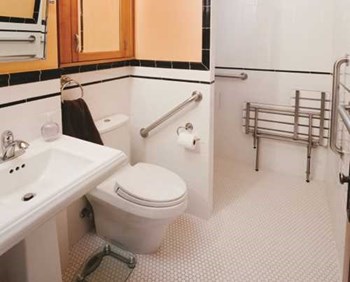 Of all the responsibilities that come with being a board member or manager of a residential building, few are as important as ensuring the safety of your residents. Making and clearly communicating emergency plans, marking entrance/egress points, posting evacuation routes, and conducting periodic fire and disaster drills are all crucial parts of the job.
But not every building community is the same, and individual residents may have very different needs when it comes to not just emergency preparedness, but everyday function and quality of life as well. Residents may have different levels of physical ability or limitation; some may have lived in the building for years, and are now 'aging in place,' and in need of services and considerations they didn't give a thought to a decade or two ago.
South Florida, of course, is where many retirees come to settle down in a warm climate. Florida, to no one's surprise, has the greatest proportion of people who are at least 65 (17.3 percent), followed by West Virginia (16 percent), Maine (15.9 percent), Pennsylvania (15.4 percent), and Iowa (14.9 percent). The state with the smallest share of 65-and-older individuals is Alaska (7.7 percent). Four Florida cities, Clearwater, Hialeah, Cape Coral, and Miami, are also among the 10 cities with the highest percentages of senior citizens, according to U.S. News & World Report.
Serving the changing needs of a building or association community—including the spaces and facilities that community calls home—has given rise to the concept of Universal Design—the idea of making buildings, products and environments that are accessible to everyone, regardless of age or physical ability.
Universal Design
Inspired by the needs of Baby Boomers, (some of whom are now entering their golden years) Universal Design is a series of inter-related amenities incorporated into an overall design scheme that makes living spaces "usable by all people, to the greatest extent possible, without the need for adaptation or specialized design," according to the Center for Universal Design at North Carolina State University.