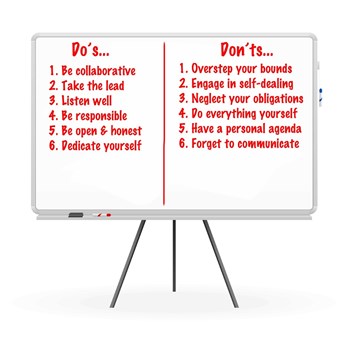 It only takes a few minutes of a web search to uncover the traits that make a successful person or business owner. For example, Entrepreneurmagazine's Steven Key wrote the article, "5 Qualities of Successful Persons," which included such traits as open-mindedness, unwavering passion, and a forward-looking approach. But what make a board, which is made up of individuals volunteering their time, a successful one?
Be Collaborative
Helen Keller once said, "Alone we can do so little; together we can do so much."
The definition of collaboration is the act of working with another or others on a joint project. "Members of an effective and successful board are all on the same page," says Dale Young, director of portfolio management, FirstService Residential, with offices in Chicago and Florida. "They are seeking improvements and infrastructure that is in the best interest of the community. In a successful board there are no personal agendas. The board should be serving in the best interest of the association as a whole."
Take the Lead
"It is better to lead from behind and to put others in front, especially when you celebrate victory when nice things occur. You take the front line when there is danger. Then people will appreciate your leadership," said Nelson Mandela.
"Boards that delegate responsibilities by and between board members and even to other members of the community are often very successful," says Eric M. Glazer, founding partner of Glazer & Associates, P.A. in Fort Lauderdale. "For example, if the board is engaged in attempting to find a contractor for a major job, some boards establish committees to assist in the process. The board gets the community involved in the process and that way the board makes the community feel as if they have a voice in the process and the board is not dictatorial."